Overview
Aircraft Spruce & Speciality is the exclusive distributor for VP-1 materials kits. The Volksplane was designed and prototyped by Bud Evans in 1968. The aircraft is inexpensive, easy to build, and fun to fly. The fuselage is all wood, with three bulkheads, four longerons, flat plywood and some vertical stiffners. Wings are wood frames covered with fabric. The only parts requiring welding are the control stick, strut ends and stabilizer horn. The only sheetmetal work is in the elevator trim tab. Over 1000 of these single planes are flying. The aircraft is ideally suited for Volkswagen engines in the 1500 to 1834 cc range. We can supply complete materials kits from stock. Free kit list on request.

Note: Landing gear is NCNR, may not be cancelled or returned. Lead times are always 6-8 weeks. All Grove Aircraft landing gear is NON-CANCELLABLE/NON-RETURNABLE.
Specifications
Kit Price Without Engine: N/A
Plans Price: $59
Number of Seats: 1
Building Materials: W, F
Building Time: ~700 Hours
Standard Engine: VW 1600 / 50 HP
Horsepower: 50-65 HP
Wing Span: 24′
Wing Area: 100 sq ft
Empty Weight: 440 lbs
Gross Weight: 650 lbs
Takeoff Distance: 500′
Landing Distance: 400′
Cruise Speed: 75 mph
Top Speed: 95 mph
Fuel Capacity: 8 Gallons
Range: 200 miles
FAQ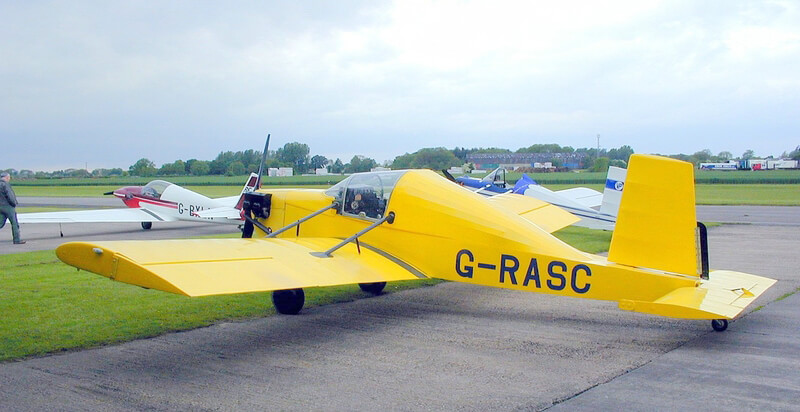 Courtesy of Evans Aircraft Company
Q: Can I modify the VP-1 structure?​
A: 
​
VERY IMPORTANT FAQ! 
We recommend that people use the VP primary structure 
AS-IS
, then do all modifying and customizing in the secondary structure. Without the required engineering background, one should not modify the primary structure which has been engineered, stressed, and now proven for over 
40 years
!Because the VP primary structure is so very simple to begin with, it has been a natural for people to build upon with their own ideas.
Q: What if I am overweight?
A: Heavy pilots present no structural problem provided they realize that the allowable maneuver load factor is reduced when gross weight increases. (see VP-1 Plans, page 22 & Pilot's Handbook, page 2. We recommend that other questions related to structural modifications to accommodate overweight pilots should be researched through Volksplane forums, parts vendors, and other internet search.
Q: How long does it take to build the VP-1 and what does it cost?
A: It should require no more than 6 to 12 months time unless time has been taken off for other things. Costs have obviously gone up since the VP-1 was first marketed in 1968, when it could be built for $1000, including used engine. However, despite inflation along with salary increases over time, the VP is still the low cost way.
Q: Can I use an engine other than that specified by the designer?
A: Yes. However, such modifications come with some loss of reliability and service life. (see more detailed designer's comments on this subject in the VP-1 Plans, page 26 and Pilot's Handbook)
Q: Where can I find information on the structural airworthiness, flight characteristics and design capabilities of the VP-1?
A: Detailed information of this kind is readily available in the Volksplane Plans and Pilot's Handbook. As an aeronautical engineer the primary intent of the designer was to get a pilot into the air as easily, as economically, and as safely as possible. This is precisely what the VP does, and it does it remarkably well. The Volksplaner can fly to over 10,000 feet, cruise up to 94 mph, land at less than 50 mph, fly cross country legs of 200 miles, and operate from any reasonably flat field that is 1,000 to 1,500 feet long. And, he can do this with the assurance that he is surrounded by a rugged little airplane.
Q: Is the VP-1 capable of acrobatics?
A: Yes, but only within the parameters specified in the VP-1 Plans book, page 26 & Pilot's Handbook, page 72.
Q: Where can I get parts for the VP-1?
A: Aircraft Spruce is our primary parts supplier.
Q: Is licensing required for a homebuilt aircraft?
A: In the U.S. all homebuilt aircraft are licensed by the FAA in the Experimental / Armature Built category. Please refer to the FAA website link on our Website.
Outside the U.S. check with your sport aircraft association. Most countries now have similar licensing arrangements for homebuilts. Most countries already have VPs licensed and flying.
Q: What are the engineering credentials of the VP-1 designer?
A: The designer has 30 years design experience with Ryan Aircraft, Convair and General Dynamics, plus 25 years in Evans Aircraft. His associates hold aeronautical engineering degrees from NYU, MIT and the University of Minnesota. In addition, the designer's primary test pilot had 12 years of U.S. navy flying experience both as a fighter pilot and instructor. (see VP-1 Plans, page 28 & Pilot's Handbook, page V)
Q: Do we sell VP-2 Plans?
A: No. Despite its popularity we stopped marketing and responding to technical inquiries regarding the VP-2 years ago due to liability issues associated with 2-seat airplanes. If VP-2 plans or modifications of VP-2 plans currently exist on the Internet, it is without our permission and therefore without our approval.
Additional information on both the VP-1 and 2 can be found through the following Wikipedia links: Wikipedia page about the VP-1, Wikipedia page about the VP-2
Q: Can I purchase the handbook separately?
A: Yes. The Handbook is available in hard copy and will soon be available as a PDF download normal or large print
Q: How long will it take for the plans to arrive?
​A: We ship plans out to customers every Wednesday. Please allow 5 – 7 days for delivery, longer for international shipping.
History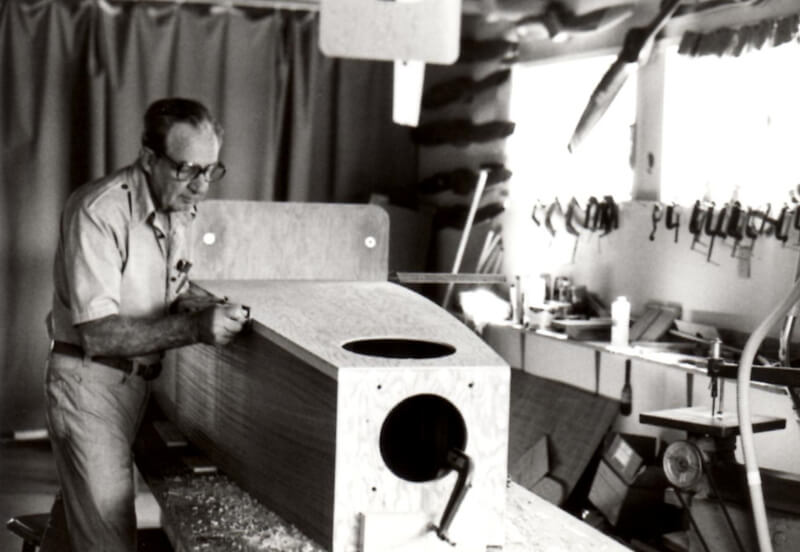 About Evans Aircraft Company
Work on the design of the VP-1, was completed between 1966 and 1968, the intention being that the design would be simple to build for a novice working at home. The design was successful, and, following a first flight in September 1968, a large number of aircraft have been constructed by home-builders. The aircraft are powered by converted Volkswagen air-cooled engines.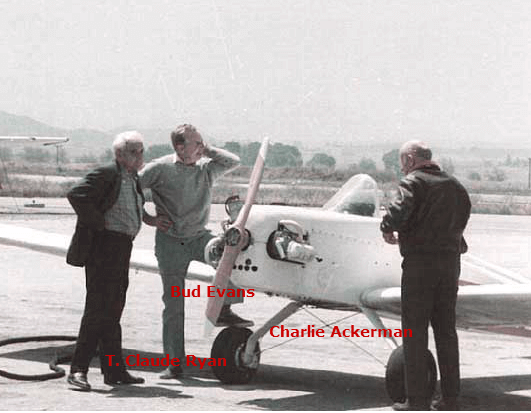 A Note from Peter Evans
It was always my father's dream to build and fly his own airplane. His inspiration as a young man living with his folks on a farm in Illinois during the Great Depression was the barnstorming exploits of pilots like Charles Lindberg and others who were pioneering manned flight. It was only years later after a long and successful career as an aeronautical engineer on the West Coast for Ryan Aircraft, Convair and General Dynamics that he grabbed his slide rule, disappeared evenings into the garage and produced his first home-built aircraft.
Encouraged by friends to market his creation he formed his own company and the VP-1 was officially launched. As a professionally engineered airplane it quickly proved to be a popular, inexpensive to build and reliable answer to a wide variety of sport aviation enthusiasts. Whether amateur, commercial or experienced military pilots all were eager to experience the simple pleasures of seat-of-the pants aviation. Moreover the Volksplane helped to foster the emergence of the emerging home-built market within the EAA.
The VP-1 is perhaps the simplest, least expensive aircraft that you can build. Today there is a VP flying in practically every country on the globe. It only takes a matter of months to build: both tails 1-piece, 1-piece gear, simple 3-bulkhead wood fuselage with no metal fittings or cloth cover, no engine mount, simple wing, plank spars, 1/4 ply ribs stack-sawed, stock VW engine, highway tows on own gear.
For a Super-Quick Build some builders fly the primary structure alone; no cowls. For the more imaginative builder he or she can create their own design off the primary load structure. The secondary structure is what determines the difference in appearance seen in so many VPs, and this is where you can use your own ideas. The builder's enthusiasm for sport aviation is often reflected in the secondary structure design.
Growing up I was able to witness my father's enthusiasm for aviation, whether it be flying model airplanes, piloting gliders off the California cliffs, designing combat aircraft in the defense industry or exploring the possibilities of manned space flight. Later as a young man I was able to appreciate the fulfillment of his youthful Depression era dream of building and flying his own creation – the VP-1.
​At the end of his life in 2009 it remained his dream and hope that his unique contribution to the homebuilt aviation market would continue and remain a part of the legacy of sport aviation. As the manager of Evans Aircraft, it is my privilege to continue his legacy and to keep that dream alive among like minded enthusiasts now and in the future.
– Peter Evans